Our sales are focused on chemically free wines. For several years we have been selling organic wines from all over the world. People often distrust the label "organic". We prove that the path to such a label is not at all easy and the mistrust in organic quality has no justification.
Every year our company checks our range of products. We are certified by the Czech company BUREAU VERITAS as importers and sellers of organic wines, whether still or sparkling, sparkling or dessert. Upon successful completion of the inspection, a certificate is issued stating that we meet the requirements set out in the EU and Czech regulations.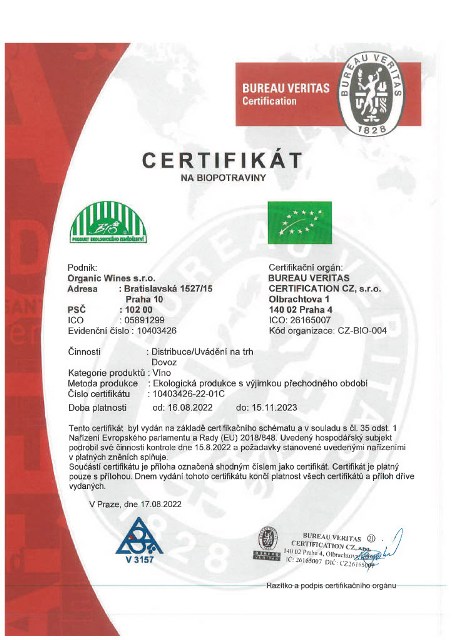 It is only with this certificate that we can label wines and other products we sell as organic.

This requires us to follow certain rules. It is also somewhat expensive (you have to pay for the inspection), but we believe that this is the only way we can offer you truly pure organic wines. It's not just that our company Organic Wines is controlled, but that all the entities through which we buy our organic wines are subject to the same control. The vineyard and the winemaker who grows the organic wines must be certified, as well as the cellar or factory that processes them and any merchant we buy the wines through. And we have to produce their certificates from all of these entities for inspection.

Wine from abroad must be properly labelled and must also pass through borders and customs under the specific import number shown on the invoice and delivery notes.

It's quite a process with producers, suppliers and customs, but this route ensures that the wines we sell with the organic label are truly organic and chemical-free.